When I think of what summer is all about, Matthew McConaughey comes to mind. I hope I'm not the only person that has been bombarded with countless photos (most often unintentionally) of him working on his fitness (Frisbee, jump rope, sit ups, surfing, jogging with Lance, etc.).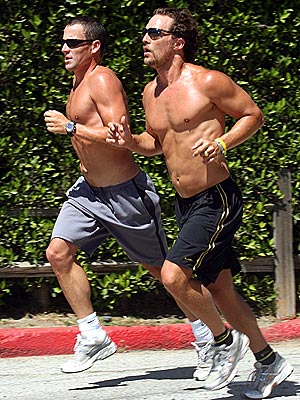 Granted that he lived in (lives in?) a trailer, in California, on the beach, and wears minimal clothing, not to mention is blonde and tan, I think it's fair to suggest that the man embodies summer. And that got me thinking the other day about what he would serve if you were to go to his trailer-yard for a "dinner party." In my opinion, I think it is obvious that he would be dishing up kebabs. Why would I think that?
A.) they are easy
B.) it is impossible to stress out making them
C.) you can make them with your shirt off
D.) it is delicious dude food, hombre
E.) they are easy
F.) they only require a grill…far out
G.) you make them outside, so you get to work on your tan
H.) you can grill them with one hand
I.) and use the other to hold a Corona with a lime, alright alright alright
J.) the protein in meat is great for muscle tone
K.) they are easy
L.) you can stretch your quads and abdomen whilst grilling
Alright, so maybe he would make hot dogs, but the recipe today is kebabs, and I think it fits. So he might have some college girl in the trailer- kitchen whisking up the marinade, but besides that, I think he could handle it…after all, it is meat on a stick.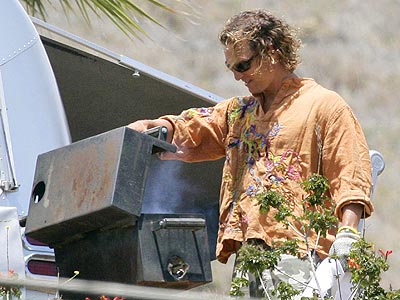 If you are a woman and you have thrown together a dinner party, you know how much work it can be. Not anymore. With this recipe, all you have to do is make the marinade and the yogurt sauce and I'm pretty sure your husband, or dude-friend, or boyfriend or any member of the opposite sex can take care of the rest. And when I say "the rest" I am referring to skewering and grilling. That way, you can grab a Corona with a lime and kick back on the lawn.
This recipe originally calls for turkey as the main meat for the kebab, but we used chicken. (Free range, of course.) You could substitute meat with tofu. Also, all the summer veggies are rolling in, which means you should be able to find what you want locally. In addition to the simplicity, the yogurt sauce (which is a must – it counters the spice of the marinade) is as easy as stirring a few ingredients. If you live near a brewery like we do, go for some local beer to complete the picture. Alright? Alright. Party at the moon tower.
Matthew's Chicken Kebabs
(this recipe is adapted from The Kitchen Bible)
Serves 6
1/2 cup soy sauce
2 tbsp olive oil
2 garlic cloves, finely chopped
¾ tsp ground ginger
¼ tsp crushed hot red pepper (or red pepper flakes)
1 ½ lb. skinless boneless chicken breasts, cut into 1 in cubes
1 red bell pepper, seeded and cut into 1 in pieces
1 green bell pepper, seeded and cut into 1 in pieces
1 large zucchini, cut into 1 in pieces
1 cup plain yogurt
½ tsp (or more, to taste) ground cumin
2 tbsp chopped mint
Combine the soy sauce, oil, garlic, ginger, and red pepper flakes in a zippered plastic bag. Add the turkey and refrigerate for at least 1 hour.
Preheat the broiler (or grill, which we heat to 400 degrees or more). Thread the meat, peppers, and zucchini onto skewers. Grill for 5-6 minutes on each side, or until cooked through.
Mix the yogurt, mint, and cumin; serve with the kebabs.
Crack open a cold one. Enjoy.